Gold Luster Floral

Art Glass Perfume Bottle

         #LF short

approx. 4.75 inches tall

  Gold Luster Heart

Art Glass Perfume Bottle

          #LFH tall

  approx. 5.5 inches tall 

Faceted Floral Hand Blown Art Glass Perfume Bottles

Gold Luster Floral with

  Ruby Interior Bubble

Art Glass Perfume Bottle

      #L7R short  

approx. 4.75 inches tall

      Gold Luster Midnight Flower              with Ruby Interior Bubble

          Art Glass Perfume Bottle

                    #MNFR tall 

             approx. 5.5 inches tall

      Gold Luster Midnight Flower                     with Blue Interior Bubble

            Art Glass Perfume Bottle

                      #MNFB short

              approx. 4.75 inches tall

Click on images to enlarge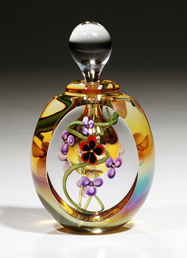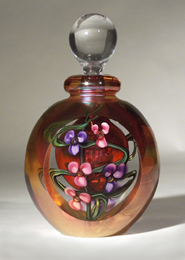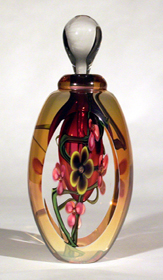 Pink Center Flower

Art Glass Perfume Bottle

        #TCR short

approx. 4.75 inches tall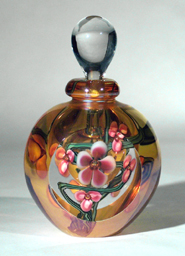 Gold Luster, Red and Black Flower

     Art Glass Perfume Bottle

               #LR+BK short

        approx. 4.75 inches tall

Unique Hand blown art glass perfume bottles  with delicate hand blown flowers or hearts encased in clear glass. The exterior of the bottle has a colorful golden amber luster, with a window cut threw the glass on both sides to show the sensuous floral art within.

  My bottles can also be made with a shortened stopper to be used as  Memorial Keepsake  Cremation Urns.

  Collecible  art glass perfume bottles, or a decorative, unique, perfect gift  to make  anyones heart smile.